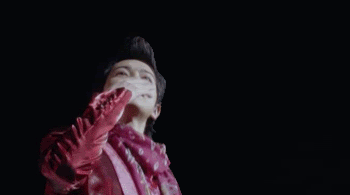 Just a little essay and spam for Matsujun's birthday! A few hours late, but it's the thought that counts.

For all his perceived manliness and cool ambivalence, he is actually the one who, at the right moments, seems like a perfectly giddy and mischievous 9-year-old boy. His smile, at those times, will just blow you away with its sincerity and child-like glee. Those smiles are like windows to the real Jun: introspective, thankful, fearless, purer than he suspects, and sincere. It also helps that he's a man who knows what he wants and works hard for it. There's nothing much more attractive than that.

I will never have been in this fandom if it wasn't for Jun. Although that doesn't exactly make me unique (quite the opposite, actually, thanks to the phenomenon that we all like to call Jun-bait), I will never be ashamed to admit that it was thanks to this particularly good-looking, if quite prickly, man that I have spent so many hours easily and happily investing in my love for the five-man rainbow drug that is known as Arashi. Yes, I know it's on the further end of dorkiness to love a boyband this much, but I have pretty much gotten over the fact that I fell for them hook, line, and sinker—even my friends have given up chastising me and sighing over my slightly socially-unacceptable obsession. Admit it, it's not really a hobby or interest you'll brag about on, say, a first date; it's something your close friends barely tolerate as you find any excuse to bring up any of the boys in a completely unrelated conversation.

Matsumoto Jun was the man who made me go "screw it, I love him! I must research on him!" when I watched him five years ago in Kimi wa Petto then the notoriously epic Hana Yori Dango. It was the first time I ever had a compulsion to look up an actor, a Japanese one at that. Although his acting has never gotten much critical acclaim, he more than makes up for it with sheer charisma and presence. He is an absolute joy to watch on the screen! Domyouji was a revelation to Japan, and to millions of unsuspecting soon-to-be Matsujun (then Arashi) fans worldwide: here is someone to watch for, a star. I won't mince my words, because he is certainly is one.

Jun is the gateway drug for many, and I can't thank him enough for personally leading me to our stormy five—there is no better, more rewarding group to be a fan of other than Arashi. And for that, I will always have a soft spot for him. I always say that Ohno's my favorite, when asked, even though I love all the members in more or less equal measure (because I am irrationally attracted to him: Ohno is Ohno, you get what I mean?) but Jun—there is just something about Jun. He's probably the one I am most fond of and care about the most.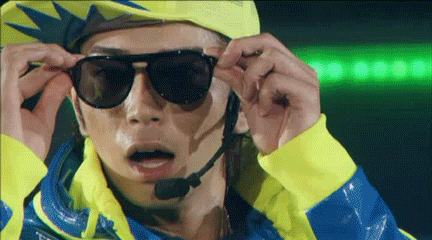 Certainly, he attracts the most attention out of the five, initially. There is no disputing the fact that Jun is a good-looking man: perfect eyebrows, sensual lips, the milky-white skin, piercing, light-brown eyes (that is only rivaled by Nino's), those lashes that go on forever, the always perfectly-coiffed hair, his intimidating smirk that is his defensive neutral expression, his graceful, manly neck and the way it tapers into the rest of the fluid lines that is his body—it's an irresistible mix. Even my friends who won't touch Asian idol groups with a ten-feet pole see him for the absolute babe that he is: "Who's that? He's hot." Damn right, he is. There's a reason why Johnny accepted him with no auditions, because even as a young boy, everyone could already tell he was going to be a real looker. (And that was during what they said was his ugly duckling phase!) He won the genetic lottery and was born a unicorn. (Violent reactions? None? Thought so.) But in all honesty, his sometimes overwhelming physical beauty is the least exemplary of his charms. It's not even his manly and cool image. Matsumoto Jun as a person is massively flawed—and for that, he is all the more riveting.

I feel sad for fans who fail to see him for the treasure that he is; many of them are quick to dismiss him as the pretty, "Do-S", cool, diva character among the five. I balk at their insistence of boxing him in that stereotype because to me, Jun is anything but one-dimensional. Admittedly, he has a hand in the way he has nurtured that "cool" image for years; it was an intentional thing on his part. He has admitted to purposely and consciously changing his cutesy, bullied little brother image from his junior years and during the early parts of Arashi's existence to the cool, brash image he steadily acquired through the years, probably starting from his Sawada Shin days. The sudden image change is probably also a result of his hard-working side; he thought he needed to appear a certain way to fans, as an idol, and he worked hard to paint that picture. Of course, parts of his personality genuinely jived with that carefully crafted character, and he eventually grew into it, but little parts of his real self still shone through.

On the other hand, what shocked the fans during that time was Matsumoto's unexpected character change! His magnificent change from being the "bullied one" within Arashi to the "manly one" was distinct even to the person himself: "It was something I did consciously. (laugh)"

"I remember that, the instant he changed. When I came into the dressing room and greeted Matsujun with the usual call, he was super curt. It took quite a while to get used to it~ (laugh)" –Sho, Pia Magazine, August 2009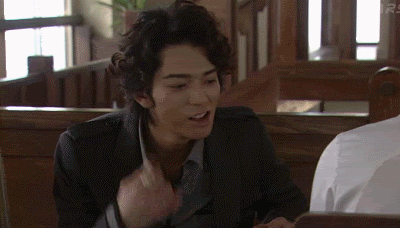 The "Domyouji" image is also hard to erase because it created such a huge impression on viewers and made so many fans out of us. I admit that I fell for him partly for the same aura and image that I am now talking about in so much detail, but through the years, I have come to see him from a better, and clearer, perspective. Jun is so much more than that stamped image that so many have of him. Surely, that cool image is also genuinely Jun—somewhere along the line, he really, truly grew up to be quite the cool guy—it stopped being an act or an abrupt character change anymore. He really grew up to be quite manly! But lately though, in the past two years or so, he has taken to allowing that carefully managed cool image slide more often that not; he's now more lax about being embarrassed when he's embarrassed, truly laughing when he finds something hilarious…in a word, he's gentler. And my heart melts whenever he smiles these days, because it makes me think that finally, Jun's really grown up. He cares less and less about how he "cool" he appears to other people, infinitely more secure about who he is. Glimpsing his softer aspects more often is a revelation and a heartwarming thing. The members said it themselves, Jun is gentler and more easy-going now, and it is surely a treat to witness. (Of course, the sporadic hitting other members on the head and the occasional bitch-face is still very much welcome!)

He is mature, probably the most mature out of all the five in Arashi. (Work ethic-wise, Sho is probably the other contender in Arashi; he once said that he and and Jun share the same attitude when it comes to work.) Jun considers everything around him with great care: he takes his work seriously and it shows. The words he says and the actions he takes show his intentions, his desire to always do an outstanding job no matter the circumstance. The much-fabled and increasingly more grandiose spectacles that are Arashi concerts are carefully looked over by him; out of all the five members, he revels in immersing and preoccupying himself with every minute detail, always mindful of the fans. That kind of thought also extends to their variety shows.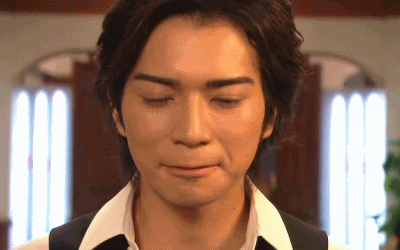 "Matsujun is always serious no matter what (laugh). Even with regards to the show's projects where he's disappointed when he loses, he does it for real and we're extremely thankful for it. The location filming at Gotemba for "Mannequin" too, we never told them at all what sort of clothing they should wear on our end... he really did pick what he thought was good. While we're all glad that the results turned out to be the funniest, he really was disappointed with the way things turned out (laugh). He himself told us that "I'm going to keep going with what I think is good!" though, so I would like him to keep up the demonstrations of his appeal from hereafter as well."
- Mishima Keita, HNA Producer, +act mini - 2010 vol. 10

"And Matsumoto-kun is hot blooded. Er... serious. He's the most serious out of them all (laugh). That's a good thing though. You don't get the sense that he's the youngest; he has the compelling power to take the lead of even the older members. He hates losing after all. "VS Arashi" is a show that definitely cannot do away with its basic premise of having Arashi duke it out seriously with the guests, so we're very thankful that we have someone like him around. He also puts in serious thought regarding the games, and conversely even give us suggestions of "Do you think a game like this would be doable?"; you can sense that he cares a lot about the show. And it's not all enthusiasm either; he's also someone with a calmness that allows him to really take in his surroundings as a whole."
- Futagawa Masafumi, VS Arashi Producer, +act mini - 2010 vol. 10

"I definitely think Matsumoto-kun is someone who is extremely prudent and serious. I consider it a somewhat of a game of catch where we're throwing the ball at them with all our strength, so with Matsumoto-kun it really does feel like the game is being played in earnest, in the best sense of the word. That is why I want to try not to let anything slip. Matsumoto-kun's sharp intuition is something we have to guard ourselves against (laugh). I'm not an expert at soccer at all, but if we were to compare this to soccer, Matsumoto-kun would be the one who suddenly kicks a ball all the way from the defender's side of the field and score the decisive goal. I think that's really amazing."
- Tanaka Hirofumi, Arashi ni Shiyagare Producer, +act mini - 2010 vol. 10

"At their 10th year anniversary, he has become really popular, has become an amazing person, right? But as I didn't want to watch from seat reserved for acquaintances, I said I wanted to see him close, I asked him to let me see him at close distance. Then at the 10th year anniversary concert, when Arashi's debut song A・RA・SHI was played, I thought "Ah, this is the debut song." Then on stage appeared five people of Arashi in that debut outfit. At that time, the person who I have wished well appeared in front of all these people in such an outfit. At that scene, I cried while smiling. They did it like a gag but I have known him all along, I knew of his private, his hidden effort. I don't know if there are better words I could say than "You made it" at that time. I was overcome with the thought that he has become an amazing person."
- Nakamura Hichinosuke, high school classmate of Jun (Tetsuko no Heya interview)

Jun is indeed amazing. His sincere thoughts and efforts towards work is seriously my favorite thing about him. Of course, he's good-looking, well-read, mature, and sweet (more than a lot of people give him credit for!) but it's his passion and love for his work that just seriously gets to me. Even from the very beginning, the start of Arashi, when Sho, Ohno, and Nino wanted to quit Arashi (and Aiba was somewhere just floating along), he was the only one who truly looked like he wanted to be where he was. While I honestly believe that the other four members now hold Arashi on a pedestal and have come to highly treasure its existence, I am always assured that there's always Jun, the one who loves Arashi the most, the one who thinks he has the most to lose if Arashi fails, to see everything through, just in case. One of my favorite quotes is from Nino. "Jun is the one who props Arashi up. If Arashi is going to fall one day, Jun is the one who will hold the ceiling up and tell everybody to get out first." I find myself agreeing to the tips of my toes, down to Nino's wording. If that doesn't make your skin crawl in awe and love, I don't know what will.

""If there are needs and on top of that, it fits with what we want to do as well, Arashi will continue on. But if it becomes a bit of a mismatch, there isn't really a point in continuing. I have no fears about undergoing change. That is why I think the present is so important.""
- Jun, Hanako - 09/24/2009

He never takes the present for granted, and takes care to treasure it. Someday, in the far, far, (did I mention FAR) future, Arashi will stop having activities, but I am more than sure than Jun will see to it that happens only in the best circumstances, in their own terms. You can say that when it comes to Arashi, his heart has been in the right place from day one, and will be until the very end. The very thought assures me the same time it overwhelms me. After all, this is the guy who, on national television, stood under a raging 15-meter waterfall, hands against each other as if saying a prayer, and shouted, "Aiba, Ninomiya, Matsumoto, Ohno, Sakurai! We'll do things only all five of us together can do! And bring people all over the world feelings of happiness!" Oh, Jun. If they handed out report cards for idols, he would surely get A+ for effort and sincerity. He deserves it. He's may not the most talented out of the five, but he makes up for it with sheer passion—every time he screams his famous concert call of "We'll bring every single one of you happiness!" you can't help but believe him. The best thing about it is that you can see and feel that he means to deliver on that promise, every single time. Sometimes his earnestness hurts, almost.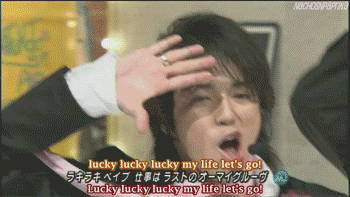 ""Like I said, the goal wasn't to continue on for 10 years. So there's not really a sense of achievement. Rather, it's a feeling of, "Isn't there more to come?"
– Jun, on Arashi, Pia - 08/27/2009

Jun is a guy who rests on the boundary between being supremely thankful about the heights they have reached as Arashi and wanting to push the envelope even further. It's a great balance, a balance that has served the group well. I truly believe that Arashi will not be as dynamic and powerful as it is now without the willful determination of their youngest member. As long as he has the strength, he will pull Arashi through with him, whatever may come their way. He is Arashi's protector, its fiercest soldier and advocate. He will never let go without a fight, and if he does, he will do it with grace while making sure his co-members come out of it clean and unscathed. He will see to it.

But I won't be all snobbish about my admiration and love for him; I'm just also really a sucker for the inconsequential little details and quirks that make Jun, well, Jun. Isn't it the little things that really makes one fall in love? I, for one, love the way his mouth sometimes goes lopsided when he talks, when he talks to the appliances at home out of habit, his little hand flourishes when he sings, his "mollusk" dancing (because I think he's the best dancer next to Ohno), the protective look he sometimes gets over the other members, the way he hates to be embarrassed and when he goes through whatever embarrassing thing he needs to do (I only feel this way for him though, IDK why!), the subtle yet loving way he bullies his juniors (Ryo, and a long time ago, Jin), his many sexy moles that are just ridiculously attractive, that black two-stranded bracelet he's been wearing for years now, his obvious soft spot for Ohno, the way he sometimes unconsciously adopts the mannerisms of the drama characters he plays during the shooting period, the way his voice cracks when he's laughing really hard, the affectionate manner with which he reprimands Aiba, his thoughtfulness about the little things like preparing the food for the guests back in Shukudai-kun, the way he can cook like a gourmet chef, his outspokenness about how he admires Nino, and conversely, the silent way he still looks up to Sho (you know it's true!), the way he always answers he doesn't have a "type" when asked what kind of girls he likes, his girly waist that is now accentuated by increasingly muscular biceps, his singing voice (this is no lie, I truly love it!), his quirky and sometimes hard-to-understand fashion sense, how he's naturally sociable, how he loves the situation of drinking and being able to communicate with other people through it, his distinct gait with his hand on the hip, everything! I could go on and on forever, and I know most of you have some things you want to add to the list.

Surely, I count myself a fan of Jun the "idol"—but more than that, I'm a fan of him as a person. I'm so thankful that I'm a fan of someone I can respect wholeheartedly. Beyond the glitz that accompanies his being a celebrity, it's easy to recognize that he's also just normal human being underneath all that, a wonderful, normal, human being. Jun is always aware of where he stands in his career, and he has goals that he sets for himself, but he will never sacrifice things that are against his beliefs to gain leverage. Sometimes he seems too practical, but there is an underlying romanticism to his thoughts too—he truly believes in the beauty and validity his dreams: that's why he works so hard. He is more optimistic than most would suspect, and lives life on full speed, despite his worries and barely contained insecurities. With that optimism comes a ferocity that I'm sure everyone has noticed, even those who are not fans at all. Jun is the kind of person who fights for what he wants, as long as he doesn't trample anyone along the way. He may be prone to bouts of temper, but mostly he is resolute with the way he tackles things. Ohno is the best leader Arashi could have, he's a perfect fit, but in a lot of ways, Arashi turns to Jun when they are in a pickle: his passion and his kindness lend to him a natural propensity for leadership. If he has one fault, it has to be that he hates losing, but maybe that has been a strength as well, when all is said and done. Everything all boils down to the simple fact that Matsumoto Jun cares.

"He has gotten stronger at everything over the past 10 years, but his kindness never changed. He was very gentle back then, but he has only gotten kinder with the years. Jun is really kind, and not like the usual simple kindness from people. So, regarding anything I'd be worried about for Jun, there really isn't any. He is perfect."
- Ninomiya Kazunari (about MatsuJun, Anan 2009.07)

Jun, you are truly a star, one in a million. No, billion. Trillion! I'm happy to have "met" you. You cut such an inspiring figure, and I will forever be always a little in love with you, I think. Not in a delusional, I-want-to-marry-you kind of in love, but just, in an I admire you, you are awesome, and I still find you banging hot kinda way. Thank you for caring about Arashi, for thinking about your fans, and for loving what you do! We wish you health, happiness, peace of mind, love, more years in your wonderful career. I think I wrote all this out of a mixture of guilt and gratitude; I just needed to have my say about Jun, this one long ode about the one who has fascinated me and inspired me all these years. There's nothing left to be said other than "thank you".

I will always be a fan, forever! ♥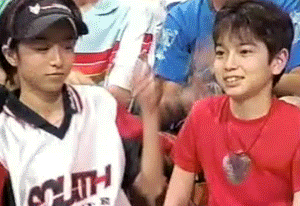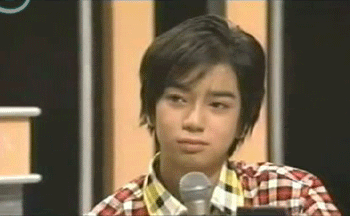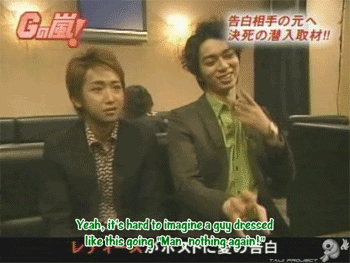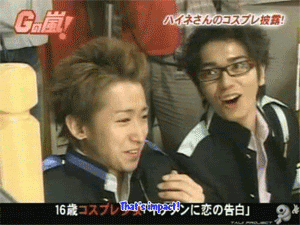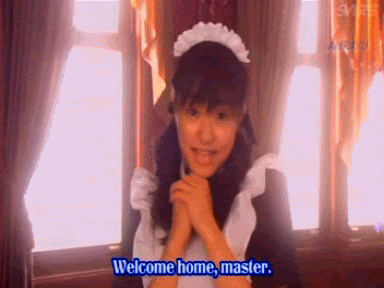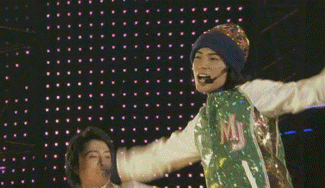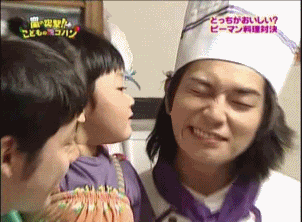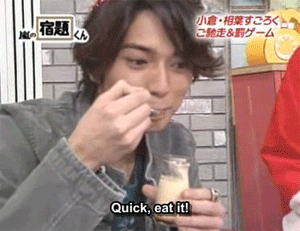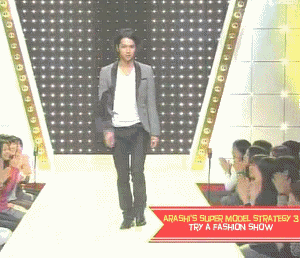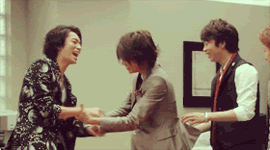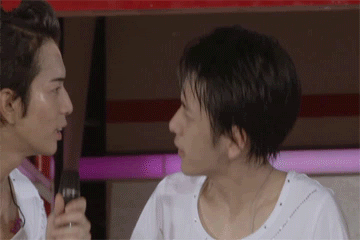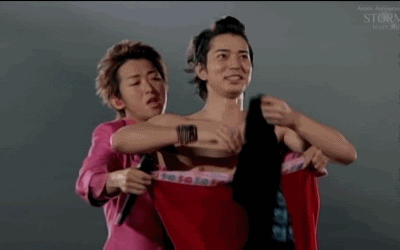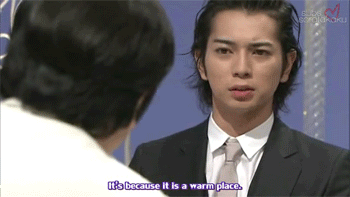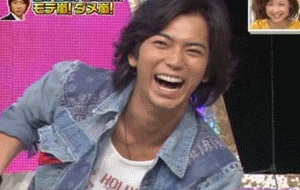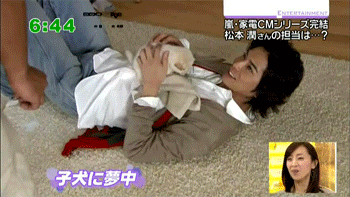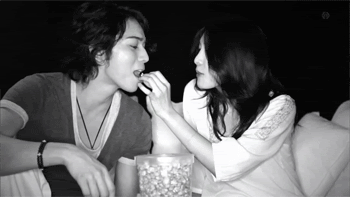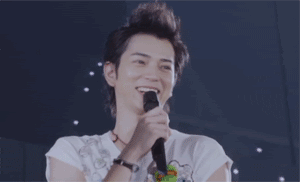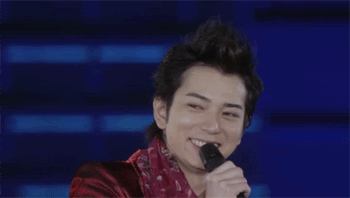 HAPPY BIRTHDAY, MATSUJUN! ♥

(PS: The new RTE is driving me crazy! If you spot errors in this post, I'm most likely going to edit it when LJ sorts out the problem with the RTE and the HTML editor as well. I'd hate reformatting everything in HTML *sniff* This was a huge labor of love as it is. Wanted to post pictures as well but it's just too much work. Boo!)